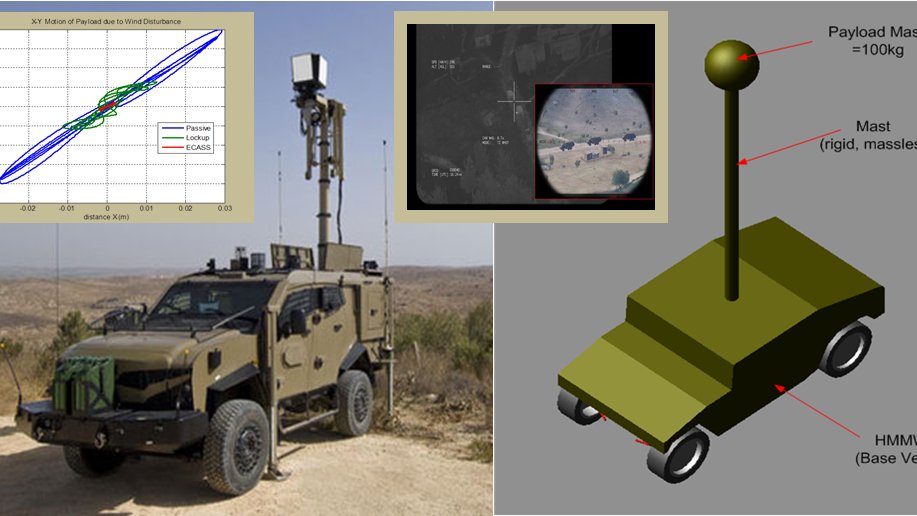 Horstman's dynamic stabilisation system is based on a modular combination of high performance motorised suspension actuators in combination with wheel position sensors and Inertial Measurement Unit (IMU) sensors to measure vehicle induced motion from terrain roughness or external excitations to generate force commands at each wheel to stabilise the vehicle platform.
The Horstman Dynamic stabilisation system provides:
Platform Stabilisation while running over various terrains
Halt mode – replaces outriggers for fast redeployment
Intelligence, Surveillance & Reconnaissance (ISR) vehicle mast stabilisation
Gun recoil mitigation for improved accuracy and reduced time between rounds
Field proven technology used on multi-axle vehicle platforms
Operates on high voltage, commonly available on hybrid vehicle platforms
Dynamic Platform Stabilisation
Reduced stabilisation system complexity and cost by stabilising the vehicle
Improves sensor acquisition time and tracking accuracy
Reduces time between weapon system firing
Reduce crew fatigue and reduce stress on sensitive equipment
Expandable to Multi-Axle Vehicle
Master/Slave configuration allows for easy expansion for stabilisation of larger vehicle platform using same hardware
Designed to withstand the harshest weather and environmental conditions
CAN Bus
Horstman Diagnostics
Any questions to our company?
You are more than welcomed to explore our website. In case you have any questions and demands in regard to our company, get in touch and send us an email.
HORSTMAN Group
Phone number
Email