Cart Mounted Environmental Control System
ECS-20T (2330)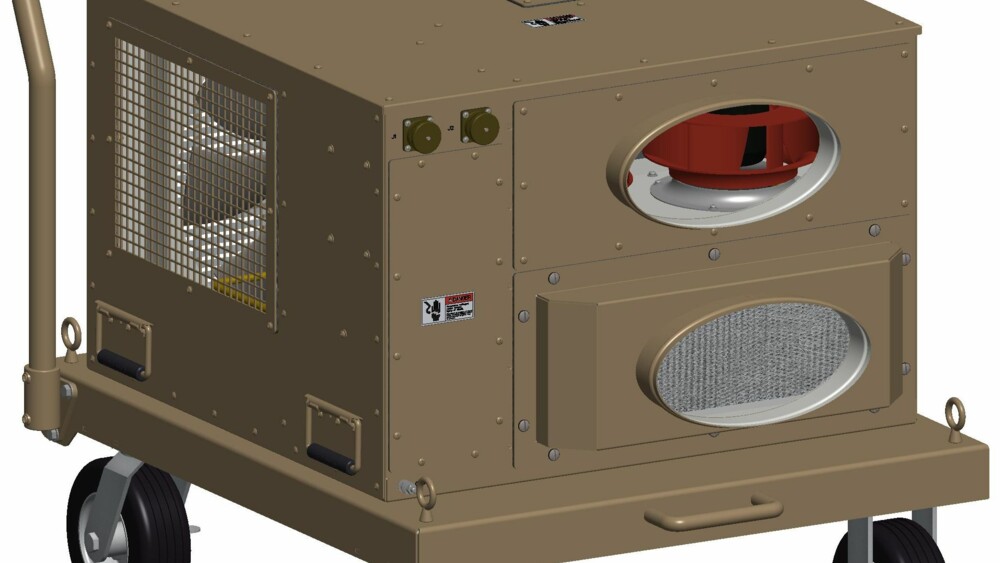 MilAIR's standard product line of unitary ducted systems provide complete environmental control including cooling, heating, ventilation, dehumidification, and filtering. These units have been designed and tested for use on shelters, vans, trailers, and tents that are subject to demanding transport and environmental conditions. All systems can be modified to meet your specific requirements.
Sealed Motors
Refrigerant Access Valves
8" Dia. Pneumatic Wheels
Retractable Lift Handles (4)
10" Dia. Supply/Return Air Duct Interface
Washable Metal Return Air Filter
Refrigerant Sight Glass
Refrigerant Access Valves
Lift Rings (4)
All Aluminum Construction
| | |
| --- | --- |
| Cooling Capacity | 20000 Btu/h |
| Design Ambient Cooling | 122 °F |
| Heating Capacity | 20478 Btu/h |
| Input Voltage | 120/240 AC 1Φ |
| Supply Air Flow Rate | 800 CFM |
more Ducted MilAIR Products
Any questions to our company?
You are more than welcomed to explore our website. In case you have any questions and demands in regard to our company, get in touch and send us an email.
HORSTMAN Group
Phone number
Email